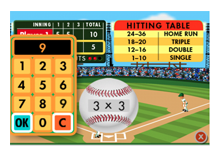 Currently you can download 10 FREE Everyday Math Apps for your iPhone, iPad, or iPod Touch.  The apps are designed for Kindergarten – 6th grade, and provide fun opportunities to practice and develop children's math skills.
Here are a few examples of the apps available:
Divisibility Dash
Baseball Multiplication
Monster Squeeze (Greater Than, & Less Than)
Name that Number (Addition, Subtraction, Multiplication, Division)
Top – It Addition
Plus Several More!
The math apps were created by McGraw – Hill Education.  If you are interested make sure to download them soon, because this offer is only available through Sunday, April 17.
Thanks, Northern Cheapskate!