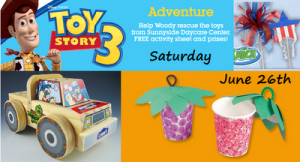 Wondering how to have fun this weekend without spending a dime? Here is a list of free activities available for you:
Lowe's is offering a Build & Grow Clinic.  Bring your child to build a monster truck decorated with stickers and all.  This one looks like it would be a hit with the kids.  Takes place Saturday at 10am.
For Toy Story 3 fans, stop by your local Disney Store to participate in a Toy Story Adventure.  Help Woody rescue the toys from Sunnyside Daycare Center. Free Activity sheet & prizes. Call your local store to confirm participation.
Michael's Make It and Take It event this weekend is  a 4th of July craft from 10am-2pm on 6/26.
Thanks to Frugal Finds for these goodies!