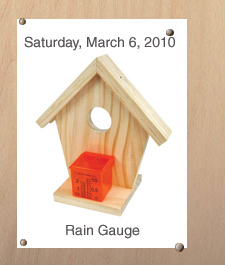 Looking for things to do with your family without breaking the bank?  This weekend's list of things to do for free comes to you courtesy of Who Said Nothing in Life is Free.  I hope you can find an event to take advantage of near you:
Take the kids to build a Rain Gauge at Home Depot at tomorrow's Home Depot's Kids Workshop from 9-noon.
At Michael's you can make a very cute Yarn doll from 10am to 1pm tomorrow 3/6.
Bank of America Cardholders can get into over 100 different museums, zoos, science centers and more for FREE the first weekend of every month.  Find a participating museum near you here.
Winter s almost over and if you are tired of looking pasty, you can get a free tan at Hollywood Tans from 9am-9pm tomorrow 3/6.
Wow!  there's something to do for everyone.  What are your plans?