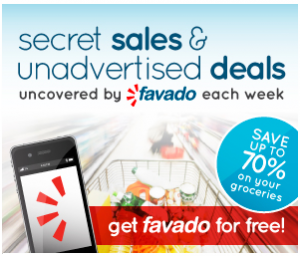 Favado is a mobile savings app that helps shoppers save time and money by discovering the best deals in more than 65,000 grocery and drugstores nationwide. The Favado app uses real-time couponing data to provide access to exclusive matching deals (coupons plus in-store promotions) for ultimate savings. Other features include planning tools for weekly shopping trips and insider access to unlisted deals.
Features Include:
1. Price Comparisons for Best Deals at Your Local Stores
2. Search for Deals on What You Need
3. Personalize the Deals You Want to See, So You Never Miss a Deal on Products You Love
4. Shopping List with Available Coupons & Sharing Options
5. Complete Sale Details, including Sale Prices & Available Coupons that Reveal Deepest Discount
6. Hand Selected Sale Information, Inputted Weekly by Top Grocery Store Experts
Be sure to sign up for FREE and check out how you can save over 70% on everyday items on your grocery bill!