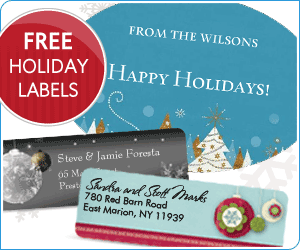 Get FREE Custom Printed Holiday Labels.  You ca  choose from gift tags, return address labels, stickers, envelope seals, to-from stickers, caricature labels & more.   Add a personalized touch to all your gifts with these custom gift tags. The labels are FREE-just pay shipping and processing (starts at $2.95).  Here is what you can get free:
25 Gift Tags
140 Return Address Labels
24 Stickers
10 Stickers – Rectangle
140 To-From Stickers
There are hundreds of full color options available.  One of the designs is the cute caricature type.  You can select a character for each member of the family.  Those are so endearing!