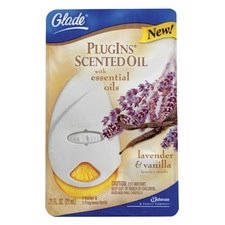 Some newspaper inserts from this past Sunday had a coupon for buy one get one free Glade Scented Oil Plug in Warmers. These are buy one get one this week at Walgreens. You could get both for free!
If your inserts didn't have this coupon, or maybe your store won't let you combine a buy one get one sale with a buy one get one coupon then you can use the $4 off one coupon that came out on the 6/3 inserts. You could get two for 79 cents.
I have family relatives that pay for this stuff!! Since I have been using coupons there have been at least three coupons out to get this stuff for free. No need to have a bad smelling house or pay for the stuff to make it smell good.
UPDATE: Whoa! Hold on to your horses! If you buy four of these Friday and Saturday you can get $4 via rebate in the September Easy Saver catalog! Sweet!
Happy savings!