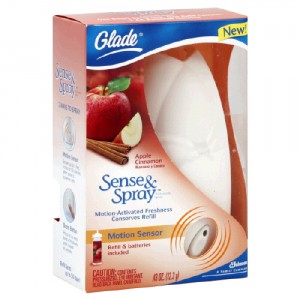 Walgreens is currently selling Glade's new line of air fresheners: Sense and Sprays Motion Sensor Automatic Spray.  It comes in apple cinnamon or clean linen scent.  This product is also currently offering $3 back via Easysaver Rebate program when you buy one (Offer #28).  Use a couple of coupons and get them free.  here's how the transaction would look:
19.98 two Sense & Spray
-9.99 buy one get one free internet printable coupon
-4 coupon from 2/8 inserts
Pay $5.99 our of pocket and get $6 back via ESR rebate.
You can get up to four this way.  Thanks Surviving the Stores for spotting this deal!