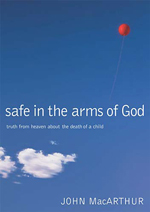 Free Kindle books are nice, but it's not everyday that you get to snag a completely free hardcover book. While supplies last, you can snag a free copy of the book Safe in the Arms of God by John MacArthur.
In his book Safe in the Arms of God, John MacArthur offers biblical comfort to parents grieving the death of an infant, small child, or mentally disabled adult child incapable of exercising faith in the Lord Jesus. The book also features real-life encouragement from Christian couples who have lost children and have found true peace—even joy—through faith in Christ.
Thanks for the inspirational find, Hip2Save!