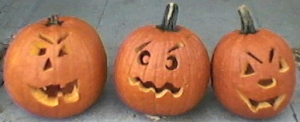 Carving Jack-o-lanterns is a Halloween tradition, but it always seems like such as waste throwing away all those gooey guts. Instead of tossing them, turn them into healthy snacks.
Everyone knows that you can roast pumpkins seeds. Just separate them from the pulp, wash them, and pop them in a 350 degree F oven and let them cook for a few minutes. Make sure you stir them occasionally and watch them carefully so they don't burn. For added flavor, you can coat the seeds with seasoning before cooking. Cinnamon and brown sugar is nice for a sweet snack, and a little salt pepper and chili powder for a salty snack with a kick.
If you don't want to throw away all those gooey leftover guts, you can also try a little pumpkin butter. Just take a few cups of pumpkin guts, without the seeds, and cook them over low heat with some brown sugar, cinnamon, nutmeg, and cloves. You can also puree it after it cools if you like. Store it in the refrigerator and try some on toast, crackers, or anything else you like.
If you love pumpkin, you can also try some Pumpkin caramel spice waffles with caramel maple syrup. Here's an awesome recipe from Marzetti:
INGREDIENTS

1/2 cup plus 3 Tbsp. Marzetti® Old Fashioned Caramel Dip
1/2 cup maple syrup
1/4 cup apple cider
2 cups dry pancake mix
1 tsp. ground pumpkin pie spice
1/2 cup pumpkin puree
1/4 cup vegetable oil
2 eggs
1 1/4 cup milk
1/2 cup chopped toasted pecans

For the sauce:

Combine 1/2 cup Marzetti® Old Fashioned Caramel Dip, maple syrup, and apple cider in a sauce pan. Bring to a simmer while whisking the entire time. Remove from heat.

For the waffles:

Preheat a waffle maker to desired temperature. In a large bowl, whisk together dry pancake mix and pumpkin pie spice. In another bowl, whisk together 3 tablespoons dip, oil and pumpkin puree until smooth; beat in eggs and milk. Add wet ingredients to the dry ingredients and fold together until the dry mix is incorporated. Spoon the batter into the preheated waffle maker. Cook to desired temperature and color. Repeat with remaining batter.

Arrange waffles on a plate, pour sauce over them, and sprinkle with pecans.