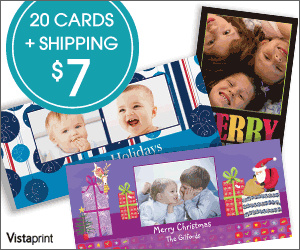 Still looking for free Holiday card offers?  Here is a roundup of  a few offers you can take advantage of right now:
Get 20 4×8 cards delivered to your door (within 7 days) for only $7.
Get 25 FREE 4×8 Photo Cards with code 25cards at checkout. S&H is $4.99 which (this are printed in photo paper)
20 Free Holiday Cards from Snapfish for $5.99 Shipped.  (These are printed in card stock)
I think I am skipping Holiday cards this year.  I haven't made up my mind yet 🙂
Thanks, Frugal Coupon Living!