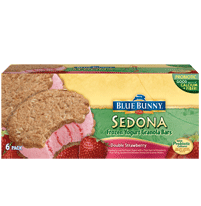 Yes! my favorite words together in the same sentence: free and ice cream! Blue Bunny is offering free Blue Bunny Sedona or Aspen Frozen Yogurt Granola Novelty after rebate.    All you need to do is submit your rebate under the following guidelines:
You must buy product between 5/23/09 and 5/25/09.
Send in this rebate form, plus receipt and UPC bar code from package by 6/10.  Must be postmarked by 6/10 and received by 6/19.
Allow 4-6 weeks to get money back.
How great is this?  Just in time for Memorial day, you can enjoy and share this treat for free after this rebate.  I am doing this one for sure.  Enjoy!