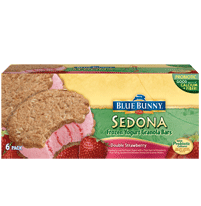 Blue Bunny is yet again offering free Blue Bunny Sedona or Aspen Frozen Yogurt Granola Novelty after rebate. This offer was available for Memorial Day and it is available again for Labor Day.  All you need to do is submit your rebate under the following guidelines:
You must buy product between9/5/09 and 9/7/09.
Send in this rebate form, plus receipt and UPC bar code from package by 9/19. Must be postmarked by 9/19 and received by 9/23.
Allow 4-6 weeks to get money back.
Make this an even better deal by using the coupon for $2 off one found in the 8/2 SS insert.  Love this freebie!  Although I am pretty well stocked up on ice cream is kinda hard to pass on free ice cream isn't?  Enjoy!
Thanks SWVA Saving Money!