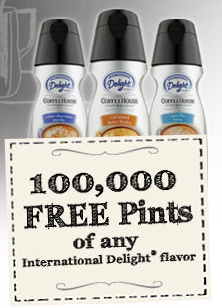 International Delight is having a HUGE Holiday Giveaway!  They are giving away 100,000 pints of International Delight Creamer.  To get your free pint become a Facebook Fan of International Delight.  After you have done so, click on the "Holiday Giveaway" tab.  Then just enter your information so you can have your coupon for a free pint of International Delight Creamer mailed to you.
While you are there become a fan of Common Sense with Money to have access exclusive updates and giveaways.
Thanks Free Snatcher!