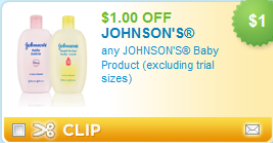 I just wanted to let you know that the $1/1 any Johnson's Baby product coupon is available again on Coupons.com.  I know it disappeared pretty quickly after I shared it with you yesterday and some of you could not print it from the Red Plum website.  So, go on and print this coupon while it is still available.
Use this coupon to get the Johnson's and Johnson's Soap Buddies bars free at stores like Kmart, Walmart and Target and possibly your local grocery store.  These soap bars are NOT trial size.  They are just single bars of soaps that sell for $0.97-0.99.  Don't let cashiers tell you they are trial size.  They are not even with the rest of the trial size items at any store that sells them.
BTW: I hear the Red Plum coupon prints fine when you use Internet Explorer.  You may want to give that a try if you ever have problems printing Red Plum coupons.