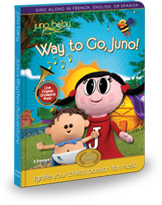 Did you miss the Free Juno DVD offer I had for you yesterday?  Well, I have great news!  Heard it From a Mom has offered 1,000 more DVD's.  This is what I had to say about this yesterday:
This FREE Juno DVD would make a wonderful present for a little one. In comes in a very nice case that looks like a hard cover book.  But the best part is that after you have registered with Heard it From a Mom to get this free DVD, you will be able to give it forward as well. Get your FREE Juno Baby "Way to Go Juno" DVD.
I think 1,000 more DVDs should make a lot of you happy. So, make sure to share about this freebie with friends and family so they can get their own FREE copy.