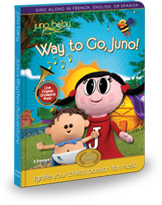 Sorry, this free offer is now gone.
While attending Blogher conference last month I was introduced to Juno Baby.  Juno Baby is an Emmy Award Winning program for children aged 1-5.  This series was created by Belinda Takahashi a mom and music composer.  When I first watched these videos I was very touched by the beauty of the music as well as the simple yet powerful message to children.  The stories carry messages of encouragement and inspiration.
As a mom one of the things that I liked the most about Juno Baby is the calming effect.  You know how some shows on TV right now give you the impression of too much going on at once?  Juno Baby is not like that.  The times I have played these to my kids they have been captured by the music.  Before you know it all of their attention is on the show and on following the story as well as humming along the tunes.
But I would love for you to be able to introduce Juno Baby to your children/grandchildren or nephew or niece for FREE.  Juno Baby has partnered with Heard it from a Mom (A Word of Mouth Marketing company) to help spread the word about Juno Baby.  I have been giving the opportunity to offer 500 of my readers Free Juno Baby DVD's (a $17.99 value).  TOTALLY FREE!  Just click here and sign up for this freebie.
This FREE Juno DVD would make a wonderful present for a little one.  In comes in a very nice case that looks like a hard cover book.  So, make sure to share about this freebie with friends and family so they can get their own FREE copy.   But the best part is that after you have registered with Heard it From a Mom to get this free DVD, you will be able to give it forward as well.  Get your FREE Juno Baby "Way to Go Juno" DVD.
You can also visit the Juno Baby website to download Juno's Musical ABC's narrated by Brooke Shields.  Plus you can also download the Juno Baby All in One iPhone or iTouch app.  This app has kept Tali busy while I do my shopping at Target.
Disclaimer:  I received  a free Juno Baby DVD and 500 to giveaway on my blog from  Juno Baby and Heard it From a Mom.