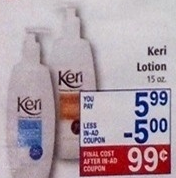 Seems like Rite Aid shoppers are going to have a good week next week!  In addition to the FREE Glade Sense & Spray you can also grab free Keri lotion starting 12/23.  Here's how:

Keri Lotion – $5.99
Use $2/1 Keri Product or HERE
PLUS $5/1 Keri Lotion RA in ad coupon
FREE after coupons
Check out the other Rite Aid deals here.  Stay tuned for the upcoming preview!