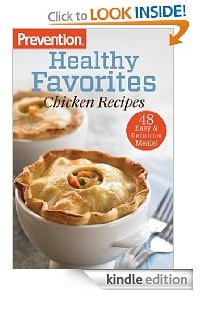 Right now you can get the following title as a free Kindle and Free Nook book download: Prevention Healthy Favorites: Chicken Recipes: 48 Easy and Delicious Meals! From the Editors of Prevention Healthy Magazine, you will find recipes such as Chicken and Portobello Mushroom Pasta Bake and Lime-Marinated Chicken with Salsa. As well as new takes on classics such as Oven-Fried Buttermilk Chicken and Chicken-Spinach Parmesan.
Remember that you do not need a Kindle e-reader to be able to read this book. You can read it on your PC, iPhone, iPad
, Blackberry and Android. Just download for free the appropriate application to be able to do that. Amazon changes prices without notice, so make sure to check that the kindle price it is still $0.00 before you start downloading this book.