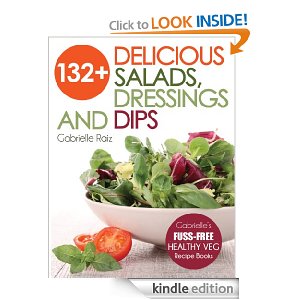 Need some more vegetables in your diet or tired of eating them the same way?  Then download 132+ Delicious Salads, Dressings And Dips (Gabrielle's FUSS-FREE Healthy Veg Recipes) available for FREE in kindle format.
Book Description

Never be bored with the same old boring salads again. Salads can be the flagship of any meal when you have the know-how. Sometimes it's in the salad itself. Other times it's in what you dress it with. Imagine combining two winning recipes which may very well inspire even the most salad-phobic of folk. Gabrielle shows you:

How to create delicious salads, dressings and dips – all fuss-free, tried and tested and … using easy-to-find ingredients!
How to make even the most often-used salad ingredients taste different, by cleverly preparing your vegetables to vary consistency and "mouth-feel". And what a difference that makes.
How simplicity can make you a winner in the kitchen. Some salad recipes you will learn are beautiful precisely because of their simplicity.
How you don't always need a complex or long list of ingredients to make your creations interesting or delicious.
Many versatile recipes, ranging from simple right through to Gabrielle's famous and sophisticated "super salads" showing you how to use anywhere from a handful of ingredients to a cornucopia of produce, all with spectacular result.

It's no secret that eating fresh (mostly) raw vegetables is one of your keys to vibrant health. Join the growing wave of people who believe fresh food should be our medicine … and make the transition away from "packaged and processed foods" easily … by eating more salads.
Please note this kindle book is free to anyone at the moment. But Amazon changes their offers without notice. Please make sure it is still free before you start downloading it.
Remember that you do not need a Kindle e-reader to be able to read this book. You can read it on your PC, iPhone, iPad
, Blackberry and Android. Just download for free the appropriate application to be able to do that. Amazon changes prices without notice, so make sure to check that the kindle price it is still $0.00 before you start downloading this book.