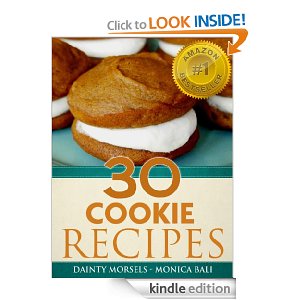 I plan on making lots of cookies this upcoming week when the kids are off of school as many of you are as well.  If you're looking for something new to try out this year right now you can get the [easyazon-link asin="B00AJWG6LQ"]30 Gourmet Cookie Recipes – The Cookie Baking Cookbook That Enables You To Bake Like A Gourmet Dessert Chef![/easyazon-link] Kindle version for free! 
As a child, Monica Bali watched as her father and grandmother, "from two different worlds created magic in the kitchen!" The hub of her Indian/Hispanic heritage, the kitchen was a place to share life, love and great food. "In my family, food is more than something to eat, it is our common bond."The cookie recipes in 30 Cookie Recipes, Dainty Morsels by Monica Bali are simple to follow and easy on the taste buds.
Please note this kindle book is free to anyone at the moment. But Amazon changes their offers without notice. Please make sure it is still free before you start downloading it.
Remember that you do not need a Kindle e-reader to be able to read this book. You can read it on your PC, iPhone, iPad
, Blackberry and Android. Just download for free the appropriate application to be able to do that. Amazon changes prices without notice, so make sure to check that the kindle price it is still $0.00 before you start downloading this book.