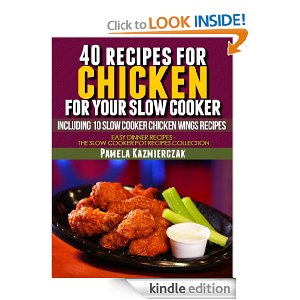 If you're looking for a yummy recipe for the upcoming Superbowl party, look no further!  Now we can get some inspiration from this ebook: [easyazon-link asin="B008Y5NRZ8″]40 Recipes For Chicken For Your Slow Cooker – Including 10 Slow Cooker Chicken Wings Recipes (Easy Dinner Recipes – The Chicken Slow Cooker Recipes Collection)[/easyazon-link] for free to anyone at the moment. 
Slow Cooker Chicken recipes are pretty easy, as are most recipes for the slow cooker. You will be able to start the meal and then walk away for many hours. It is not exactly quick for the total time, but the prep time and actual time you spend preparing the dish is not that long at all!
This is available in kindle format for free at the moment.  Please note this kindle book is free to anyone at the moment. But Amazon changes their offers without notice. Please make sure it is still free before you start downloading it.
Remember that you do not need a Kindle e-reader to be able to read this book. You can read it on your PC, iPhone, iPad
, Blackberry and Android. Just download for free the appropriate application to be able to do that. Amazon changes prices without notice, so make sure to check that the kindle price it is still $0.00 before you start downloading this book.