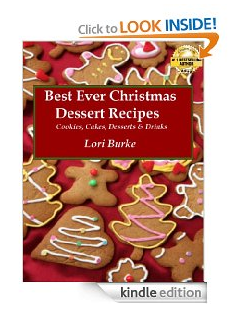 Looking for dessert inspiration?  Then check out the recipes in this ebook [easyazon-link asin="B00A73LOX2″]Best Ever Christmas Dessert Recipes[/easyazon-link] available for free in Kindle format right now.
There are recipes for Christmas cookies, cakes, pies, breads and desserts. There are also recipes for traditional Christmas drinks.  Included are classic, family Christmas dessert recipes like Christmas Sugar Cookies, Rum Balls, Holiday Thumbprint Cookies, Poinsettia Cookies, Amaretti ai Pignoli, Polish Kolaczki, Christmas Bread Pudding, Christmas Rum Cake, Gingerbread Cake, Homemade Pumpkin Pie and more.  You'll also find more contemporary Christmas dessert recipes like Cranberry Pistachio Biscotti, Lemon Sugar Cookies, Eggnog Cookies, Fruitcake Cookies, Brandy Eggnog Cake, Annie's Apple Crisp, Eggnog Cheesecake, Pecan Squares and more.
Please note this kindle book is free to anyone at the moment. But Amazon changes their offers without notice. Please make sure it is still free before you start downloading it.
Remember that you do not need a Kindle e-reader to be able to read this book. You can read it on your PC, iPhone, iPad
, Blackberry and Android. Just download for free the appropriate application to be able to do that. Amazon changes prices without notice, so make sure to check that the kindle price it is still $0.00 before you start downloading this book.