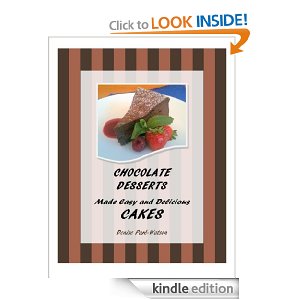 I don't mean to make you hungry on this fine Friday but this ebook [easyazon-link asin="B0072KE9F8″]Chocolate Desserts Made Easy and Delicious – CAKES[/easyazon-link] sounds just like what the doctor ordered and it is FREE in Kindle format at the moment.  I am not sure now I will have the patience to whip one of these recipes quickly or just run to the bakery, yummm!
Book Description

Publication Date: January 26, 2012

"Chef colleague and friend Denise Paré-Watson has created a cookbook as enticing as chocolate itself. The recipes are clear and easy to follow and are easily adapted to the home or professional kitchen. She has included useful information about techniques, tips, and ingredients to make the recipes a success. This impressive book will inspire even the most timid baker to explore the world of chocolate."
Please note this kindle book is free to anyone at the moment. But Amazon changes their offers without notice. Please make sure it is still free before you start downloading it.
Remember that you do not need a Kindle e-reader to be able to read this book. You can read it on your PC, iPhone, iPad
, Blackberry and Android. Just download for free the appropriate application to be able to do that. Amazon changes prices without notice, so make sure to check that the kindle price it is still $0.00 before you start downloading this book.