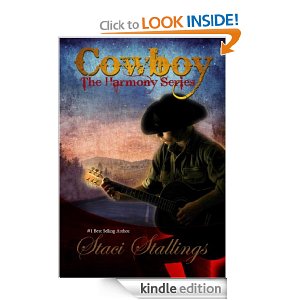 The ebook [easyazon-link asin="B0049B2E82″]Cowboy (The Harmony Series)[/easyazon-link] in kindle format can be downloaded for free right now. Please note this kindle book is free to anyone at the moment. But Amazon changes their offers without notice. Please make sure it is still free before you start downloading it.
Book Description
Life has done its best to knock Beth McCasland to the ground, and the truth is: it's done a pretty good job of keeping her there. Stuck in a minimum-wage job with a young daughter counting on her, Beth does her best to stay standing under the weight of it all because she knows God is on her side. Then one night she gets the chance to be an angel to another of life's weary travelers. For once hope has never looked so real.

Cowboy is a grace-filled story about the power of giving everything to God and how a simple act of compassion can change lives forever. Emotional, soothing, and heart-wrenching, Cowboy is infused with the message that no matter who we are and no matter what life has thrown at us, we never have to walk alone.
Remember that you do not need a Kindle e-reader to be able to read this book. You can read it on your PC, iPhone, iPad
, Blackberry and Android. Just download for free the appropriate application to be able to do that. Amazon changes prices without notice, so make sure to check that the kindle price it is still $0.00 before you start downloading this book.