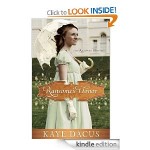 If you like to read Romance Novels here are some you can download right now for free on Amazon:
Ransome's Honor (The Ransome Trilogy)
By Kaye Daucus
Frontiersman's Daughter, The: A Novel
by Laura Frantz
Vigilante's Bride, The
by Yvonne Harris
Sixteen Brides
by Stephanie Whitson
Remember that you do not need a Kindle e-reader to be able to read this book. You can read it on your PC, iPhone, iPad
, Blackberry and Android. Just download for free the appropriate application to be able to do that. Amazon changes prices without notice, so make sure to check that the kindle price it is still $0.00 before you start downloading this book.