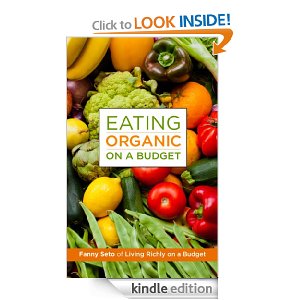 Download the ebook [easyazon-link asin="B008IWX0TU"]Eating Organic on a Budget[/easyazon-link] in Kindle format for free right now.
Book Description
Do you want to eat healthy but wish it was more affordable? Do you wonder whether to buy or not to buy organic? Which fruits and vegetables can you buy nonorganic, with low pesticide residue? Eating Organic on a Budget is a easy-to-read guide on how to eat healthy and natural on a small budget.· Where to find organic coupons and deals so you don't have to pay full price
· How to save up to 50% off organic produce
· Food Shoppers Guide: When groceries go on sale so you can stock up
· Where to get deals on organic meat
· What fruits and vegetables you can buy conventional, with peace of mind
· Where are the best places to buy organic foods
Please note this kindle book is free to anyone at the moment. But Amazon changes their offers without notice. Please make sure it is still free before you start downloading it.
Remember that you do not need a Kindle e-reader to be able to read this book. You can read it on your PC, iPhone, iPad
, Blackberry and Android. Just download for free the appropriate application to be able to do that. Amazon changes prices without notice, so make sure to check that the kindle price it is still $0.00 before you start downloading this book.
Thanks Organic Deals!