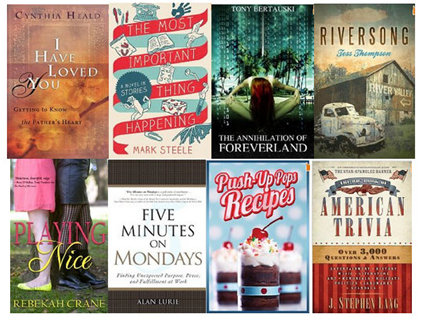 Check out this huge list of free kindle books currently available.  Please note that Amazon changes their offers without notice, so please make sure they are still free before you start downloading them:
Fiction
Mystery, Suspense and Action
The Valentine's Day Mini-Mystery Compendium (The Holiday Collection)
Rogue Justice
Down Home and Deadly (Sleuthing Sisters Mysteries)
Picture Perfect
Romance
Snoops in the City (A Romantic Comedy)
Riversong
The Boy Next Door
Paranormal, Fantasy and Sci-Fi
The Annihilation of Foreverland
Romeo and Juliet: A Vampire and Werewolf Love Story
Christian and Religious
The Most Important Thing Happening: A Novel in Stories
The Pelican Trees
Classics
A Tale of Two Cities (Illustrated) (Top Five Classics)
Westerns
Return
Non-Fiction
Make More, Worry Less: Secrets from 18 Extraordinary People Who Created a Bigger Income and a Better Life
Five Minutes on Mondays: Finding Unexpected Purpose, Peace, and Fulfillment at Work
I Have Loved You: Getting to Know the Father's Heart
The Big Book of American Trivia
Cookbooks
Sauce Recipes – 50 Tasty Choices (Mama's Legacy Series)
Push up POP Recipes
Morning Goodness: Tasty Low-Calorie Breakfast Recipes (a Scrumptious Low-Calorie Recipes Cookbook)
Childrens
Valentine's Flower for My Friends (A Valentine's Picture Book for Young Children)
My Daddy is the Best – An Illustrated book to celebrate Dads
Books for Kids: Bo the Soccer Star [Ages 7+]
Piddles the Penguin – A funny wee ebook for kids
Adolescent
Trans-Human (Book 3) (Post-Human Sequel)
Post-Human (Book 2) (Trans-Human Prequel)
Playing Nice
Spades (Book One)
An Unlikely Pair (My Once and Future Love: the high school years)
Remember that you do not need a Kindle e-reader to be able to read this book. You can read it on your PC, iPhone, iPad
, Blackberry and Android. Just download for free the appropriate application to be able to do that. Amazon changes prices without notice, so make sure to check that the kindle price it is still $0.00 before you start downloading this book.
Thanks Jessica's Coupons!