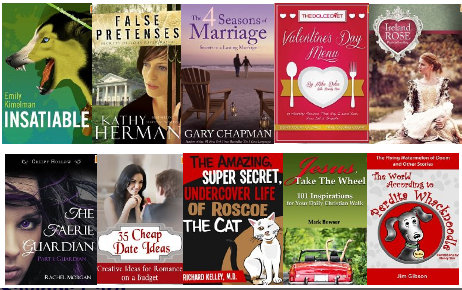 Thanks to my friend and fellow blogger over at Jessica's Coupons you'll be able to check out this huge list of free kindle books currently available. 
Please note that Amazon changes their offers without notice, so please make sure they are still free before you start downloading them:
Fiction
Mystery, Suspense and Action
INSATIABLE (A Sydney Rye Novel, #3)
Until the Last Dog Dies
The Final Arrangement (A Cozy Murder Mystery)
The Last Track: A Mike Brody Novel
Romance
Straight From The Heart
Cain (The Waite Family)
Secret Valentine
Ireland Rose
Paranormal, Fantasy and Sci-Fi
The Vampire Manifesto (Vampire Manifesto Book One)
The Faerie Guardian, Part I: Guardian (Creepy Hollow)
The Secret Of Spruce Knoll: A Channeler Novel
Riley's Curse (A Moon's Glow Prequel)
Christian
False Pretenses: A Novel (Secrets of Roux River Bayou)
Here We Come (Aggie's Inheritance)
A Hope Undaunted (Winds of Change Book #1): A Novel
Contemporary
Pacific Avenue
Haole Wood
Classics
The Scarlet Letter
Non-Fiction
Valentine's Day On A Dime
35 Cheap Date Ideas: Creative Ideas for Romance on a Budget
Jesus, Take the Wheel: 101 Inspirations for Your Daily Christian Walk
Coupon 101: Saving Money with Coupons – How to Create a Second Income Couponing in just 15 Minutes per Day!
The 4 Seasons of Marriage: Secrets to a Lasting Marriage
His Eye Is On The Sparrow. 365-Day Christian Devotional
Why Holiness Matters: We've Lost Our Way–But We Can Find it Again
Cookbooks
The Dolce Diet: Valentine's Day Menu
35 Stir Fry Recipes For Weeknights – The Stir Fry Cookbook (Quick and Easy Dinner Recipes – The Easy Weeknight Dinners Collection)
1,001 Best Hot and Spicy Recipes
Tex-Mex Recipes – 100 Recipes to Spice Up Your Appetite
Children's
The Amazing, Super Secret, Undercover Life of Roscoe the Cat
The World According to Perdita Whacknoodle: The Flying Watermelon of Doom
Goodnight, Goodnight, Tuck Me Into Bed Tight: By Demi Moon
Adolescents
Enter: Ten Tales for Tweens – Fantastic Short Stories for Middle Grade Readers
You Can Memorize All The U.S. Presidents
Lost at Sea, Book 1 – A Junior Novel (Nautical Mile Series)
So Into You (The Jane Austen Academy Series)
Timeless
The Lost Journal of Eugene Washington (The Grimm Chronicles EXTRA)
Remember that you do not need a Kindle e-reader to be able to read this book. You can read it on your PC, iPhone, iPad
, Blackberry and Android. Just download for free the appropriate application to be able to do that. Amazon changes prices without notice, so make sure to check that the kindle price it is still $0.00 before you start downloading this book.