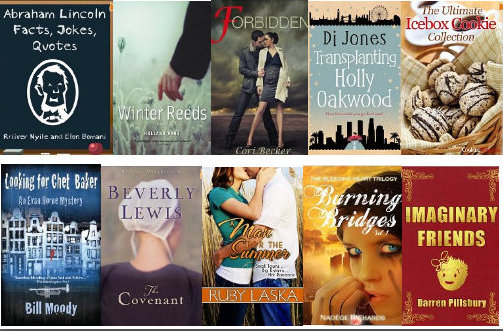 Thanks to my friend and fellow blogger over at Jessica's Coupons you'll be able to check out this huge list of free kindle books currently available. 
Please note that Amazon changes their offers without notice, so please make sure they are still free before you start downloading them:
Fiction
Mystery
Burning Bridges (The Bleeding Heart Trilogy)
Imbalance (Sharing with Abby Glena – Suspense, Adventure, Fiction Romance Books)
All Booked Up (A Basil and Hortense Killingsley Mystery)
Looking for Chet Baker: An Evan Horne Mystery (Evan Horne Series)
Romance
Transplanting Holly Oakwood
Forbidden
Forgotten Vows (A Maggie Shayne Classic)
Maid for Me, Too
Lovers and Madmen: A Sasha McCandless Novella (Sasha McCandless Legal Thriller No. 4.5)
A Man for the Summer
Paranormal, Fantasy and Sci-Fi
Meets Girl: A Novel
Imaginary Friends
The Girl in the Stationery Cupboard
ONCE UPON ANOTHER TIME
Christian and Religious
The Journey (The Adventures of Jecosan Tarres, #1)
Covenant, The (Abram's Daughters Book #1) (Abram's Daughters)
Contemporary
Winter Reeds
Classics
Persuasion
Non-Fiction
Good Enough Parenting – The Sensible Discipline Guide for New Parents (Toddlers and Young Children from Ages 1-6)
Practical Duct Tape Projects
YOU CAN HAVE A HAPPY FAMILY Steps to Enjoying Your Marriage and Children
How to be Totally Awesome
God's Grace Apart From Law: A Biblical Explanation On Living A Victorious Christian Life By Grace Alone
The Life and Prayers of Saint Joan of Arc
Cookbooks
SLOW COOKER DESSERTS
The Ultimate Icebox Cookie Collection
Pickled, Preserves, Jams: 50+ Recipes of Tasty Fun
Children's
Abraham Lincoln: Abraham Lincoln Facts, Jokes and Quotes (Black History Kids Series)
It's a Catastrophe
Casey and Bella Face Their First Bully
Adolescent
Justin Bieber: 125 Facts You Need To Know!
The Merman and The Moon Forgotten (Nikolas and Company: Episode #1)
Black Door
Arcadia's Gift (Arcadia Trilogy)
The Red Fox: A Romance
Exposing Kitty Langley
13 on Halloween (The Shadow Series #1)
Remember that you do not need a Kindle e-reader to be able to read this book. You can read it on your PC, iPhone, iPad
, Blackberry and Android. Just download for free the appropriate application to be able to do that. Amazon changes prices without notice, so make sure to check that the kindle price it is still $0.00 before you start downloading this book.