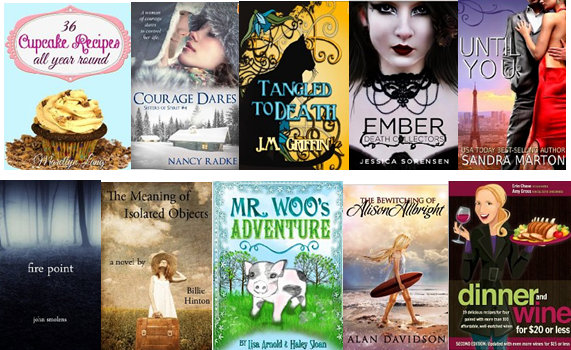 Thanks to my friend and fellow blogger over at Jessica's Coupons you'll be able to check out this huge list of free kindle books currently available. 
Please note that Amazon changes their offers without notice, so please make sure they are still free before you start downloading them:
Fiction
Mystery
Necessary Detour
Fire Point
Murder, Money & Marzipan (A Lexy Baker Bakery Cozy Mystery)
I LOVE LUCY (The Bachelor Pact)
Tangled to Death
Romance
Under A Harvest Moon
Lady in White
UNTIL YOU
Iced Romance
Courage Dares (#4 Sisters of Spirit)
Mad About You (boxed set of beloved romances)
Sinfully Delicious (A Romantic Comedy) (A Hollywood Hills novella)
Paranormal, Fantasy and Sci-Fi
Twilight's Eternal Embrace
Ember (Death Collectors, Book 1)
ON EDGE (Decorah Security)
Stealing Terry (A Tale of the Fairypocalypse)
A Midsummer's Day
Christian and Religious
Gentleman of Her Dreams (A Ladies of Distinction novella)
Daughter of Joy (Brides of Culdee Creek Book #1)
Contemporary
The Meaning of Isolated Objects
Classics
Oliver Twist
Non-Fiction
Two Scoops of Grace with Chuckles on Top: Sweet, Funny Reminders of God's Heart for You (Best Sellers in Humor)
Kitchen Organization Made Easy: Creative Kitchen Storage and Pantry Storage Solutions
The Stress Free You: How to Live Stress Free and Feel Great Everyday, Starting Today
The Bad Girls Of The Bible "7 Most Infamous" Book
Cookbooks
30 Homemade Ice Cream Cake Recipes – Learn How To Make An Ice Cream Cake Today (The Summer Dessert Recipes And The Best Dessert Recipes Collection)
36 Cupcake Recipes All Year Round
25 Tasty Slow Cooker Recipes: Soup, Chicken, Beef, Pasta and Pork Slow Cooker Cookbook
Dinner and Wine for $20 or Less
Children's
Mr. Woo's Adventure (Mr. Woo's Adventures)
Dirty Face Liam (Grammy's Gang Book 2)
I Love You!
Lulu Cooks Spaghetti! A Picturebook Cookbook (4-8)
Adolescent
Johnny B. Fast: The Super Spy 1
THE BEWITCHING OF ALISON ALLBRIGHT
Amethyst, a YA paranormal romance/fantasy (#1 of the Guardian series)
S'wanee: A Paranoid Thriller
Open Minds (Book One of the Mindjack Trilogy)
Picture Not Perfect (Short Story, Young Adult, Mystery)
Remember that you do not need a Kindle e-reader to be able to read this book. You can read it on your PC, iPhone, iPad
, Blackberry and Android. Just download for free the appropriate application to be able to do that. Amazon changes prices without notice, so make sure to check that the kindle price it is still $0.00 before you start downloading this book.