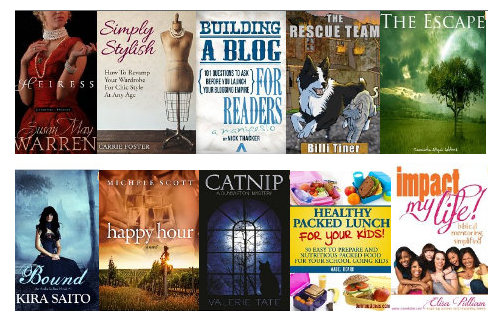 Thanks to my friend and fellow blogger over at Jessica's Coupons you'll be able to check out this huge list of free kindle books currently available. 
Please note that Amazon changes their offers without notice, so please make sure they are still free before you start downloading them:
Fiction
Mystery, Suspense and Action
Catnip
Jack Be Nimble: Gargoyle
Zero Sum (Dr. Steven Cross Series #1)
Dead Man's Hand
Romance
True Colours
Love In The Falls – Sam & Camden (New Beginnings Series – Romance)
The Secret Dreams of Sarah-Jane Quinn (Harper & Lyttle Series #2)
Close to You (A Laurel Heights Novel)
Paranormal, Fantasy and Sci-Fi
Diary of the Displaced – The Memoirs of Reginald Weldon
Crossroads (Crossroads Academy #1)
Christian and Religious
Heiress (Daughters of Fortune)
this I know – Sarah's Confession
Contemporary
Living with Miss Scarlett
All That I Am: A Novel (P.S.)
Happy Hour
Classics
The Adventures of Tom Sawyer
Non-Fiction
Impact My Life: Biblical Mentoring Simplified
Building a Blog for Readers: 101 Questions to Ask Yourself Before Launching Your Blogging Empire
The Wiersbe Bible Study Series: Mark: Serving Others as You Walk with the Master Servant
How to Memorize Bible Verses: The Fast and Easy Way to Memorizing Scripture
Simply Stylish: How to Revamp Your Wardrobe for Chic Style at Any Age
Cookbooks
Healthy Packed Lunch For Your Kids! 30 Easy To Prepare And Nutritious Packed Food For Your School Going Kids
Country Crock-Slow Cooker Recipes (Delicious Recipes)
Top 30 Easy & Delicious Seafood Recipes (Top 30 Easy & Delicious Recipes)
Children's
Which Way Is My Home ?
Lil Glimmer
Jake Bakes Cakes. A Silly Rhyming Children's Picture Book
The Rescue Team
The Firefly
Thank You God For This Amazing Day (Rhyming Children's Picture Book)
Pre-Teen
Meteors: Picture Book (Educational Children's Books Collection) – Level 2 (Planet Collection)
Darkmoor – The Darkness Discovered
Young Adult
The Escape
Bound, An Arelia LaRue Novel #1 YA Paranormal Fantasy/Romance (The Arelia LaRue Series)
Just Like Heaven
Anne Eyre (Modern Teen Bronte #2)

Remember that you do not need a Kindle e-reader to be able to read this book. You can read it on your PC, iPhone, iPad
, Blackberry and Android. Just download for free the appropriate application to be able to do that. Amazon changes prices without notice, so make sure to check that the kindle price it is still $0.00 before you start downloading this book.