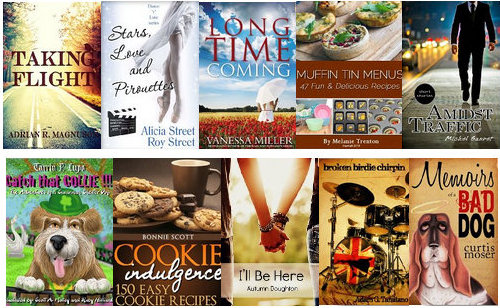 Thanks to my friend and fellow blogger over at Jessica's Coupons you'll be able to check out this huge list of free kindle books currently available. 
Please note that Amazon changes their offers without notice, so please make sure they are still free before you start downloading them:
Fiction
Mystery, Suspense and Action
Stroganov (A Darby Stansfield Thriller)
The Ruth Valley Missing
Nowhere Fast (A Mercy Watts Short)
Breaking Cover
Romance
Bunny Hills and Bikinis
Stars, Love And Pirouettes (Dance 'n' Luv Series)
Deep Dixie
Paranormal, Fantasy and Sci-Fi
Don't Feed the Fairies (The Cytolene Chronicles)
To Dream, Perchance to Soar
Swallowtail
Christian and Religious
High Desert Haven (The Shepherd's Heart)
Beyond the Storm: Quilts of Love Series
Long Time Coming
Beside Two Rivers: Daughters of the Potomac #2
Humor
Crossroads Road: A Novel
Memoirs of a Bad Dog
Contemporary
Broken Birdie Chirpin
Amidst Traffic
Taking Flight
Classics
The Strange Case of Dr. Jekyll and Mr. Hyde
Non-Fiction
Funny Woman Guide to Get Organized NOW! or at Least Sometime Before You Die. . .
The Complete Money Saver's Guide to Garage Sale Shopping
Food for Thought – 365 Christian Quotes to start your day with
EFFORTLESS POTTY TRAINING: How To Tell If Your Child Is Ready To Be Potty Trained And How To Easily Get Them Out Of Diapers And into Big Pants With Ease! (The Babylicious Mommy Serie)
CHILDREN, PARENT'S AND CHORES: Discover the Simple Ways To Get Children To Enjoy Doing Chores, Develop Character And Have Fun While Doing it! (The Easy Parenting Series)
Cookbooks
Cookie Indulgence: 150 Easy Cookie Recipes
The Cobbler Cookbook: Top Thirty Blue Ribbon Family Recipes for Cobblers, Crisps and Dump Cakes
Muffin Tin Menus: 47 Fun & Delicious Recipes
Easy Slow Cooker Recipes Around The World (Healthy Slow Cooker Recipes)
Children's
Catch That Collie!!! – Animal care and pets Children's eBooks Dogs
I Love My abc's (A Little Pup Book)
Franky Defeats the Monsters!
Boo and The Backyard Zoo
Preteen
Escape to Murray River (Adventures Down Under #1)
Noah Zarc: Mammoth Trouble (Noah Zarc, #1)
Young Adult
I'll Be Here
London Escape (The Halcyon Legacy #1)
Remember that you do not need a Kindle e-reader to be able to read this book. You can read it on your PC, iPhone, iPad
, Blackberry and Android. Just download for free the appropriate application to be able to do that. Amazon changes prices without notice, so make sure to check that the kindle price it is still $0.00 before you start downloading this book.