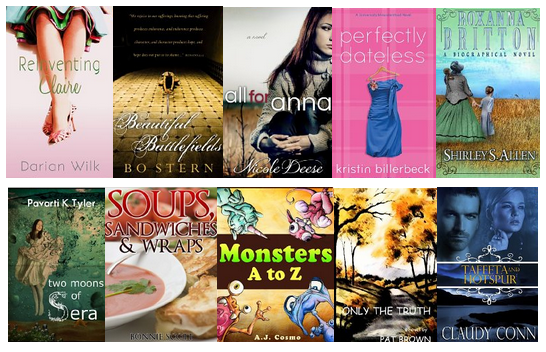 Thanks to my friend and fellow blogger over at Jessica's Coupons you'll be able to check out this huge list of free kindle books currently available. 
Please note that Amazon changes their offers without notice, so please make sure they are still free before you start downloading them:
Fiction
Mystery, Suspense & Action
The Dead Room
City of Darkness (City of Mystery)
The Marathon Murders (Greg McKenzie Mysteries)
White Tiger
The Shoulders of Giants (A Jake Abraham Mystery)
Romance
Challenging Andie
All For Anna
Scared Hitless (The Lemon Drop Martini Club)
Taffeta & Hotspur
Paranormal, Fantasy & Sci-Fi
Two Moons of Sera (Vol. 1 of 4)
Weighted (The Neumarian Chronicles)
Seer of Mars (The Vallar Series)
Captain Nemo Vs. Megalodon
Christian & Religious
Dreaming of a Father's Love (A Tale from the Ohio Valley)
Contemporary
Reinventing Claire
Only the Truth
Classics
The Legends of King Arthur and His Knights
Non-Fiction
Home Field: Writers Remember Baseball
Roxanna Britton: A Biographical Novel
Beautiful Battlefields
Super Simple Home Cleaning – The Best House Cleaning Tips for Green Cleaning the Home
Victory Through The Storms (Beyond Limits)
 Cookbooks
Country Baking and Desserts (Delicious Mini Book)
Soups, Sandwiches & Wraps
Slow Cooker Comfort Foods
Children's
Morgie and Peej's Fishing Adventure (The Adventures of Two Dogs)
There's a Monster in My Bed
Monsters A to Z
Preteen
Niall Horan: 125 Facts You Need To Know!
Ancient Fire: Danger Boy Episode 1
Young Adult
Fatal (The Dead Of Asher)
Perfectly Dateless (My Perfectly Misunderstood Life Book #1): A Universally Misunderstood Novel
Remember that you do not need a Kindle e-reader to be able to read this book. You can read it on your PC, iPhone, iPad
, Blackberry and Android. Just download for free the appropriate application to be able to do that. Amazon changes prices without notice, so make sure to check that the kindle price it is still $0.00 before you start downloading this book.