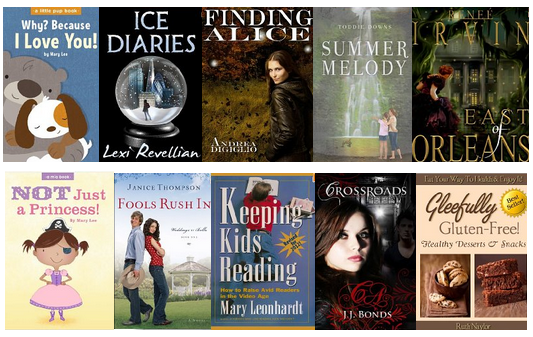 Thanks to my friend and fellow blogger over at Jessica's Coupons you'll be able to check out this huge list of free kindle books currently available. 
Please note that Amazon changes their offers without notice, so please make sure they are still free before you start downloading them:
Fiction
Mystery, Suspense & Action
Shards of Summer
Sunshine Hunter (A Susan Hunter Mystery)
The Watcher (The Bigler County Romantic Thriller Series)
The Black Bullet (Sean O'Brien mystery/thriller)
Romance
Shadow of the Final Storm (The Pink House Series)
Ice Diaries
Touched by Death
Phoenix Rising (Phoenix #1)
Paranormal Fantasy & Sci-Fi
Love and Blood (Blood Ties)
Twice Bitten: Dying of the Dark Vampires (The first two novels)
Finding Alice (Alice Clark Series)
Forever Hunger
Faith Creation: All Lies Revealed
Christian & Religious
Cicada Song
Fools Rush In (Weddings by Bella Book #1): A Novel
Contemporary
Small Kindnesses
Summer Melody
East of Orleans
Classics
Northanger Abbey
Non-Fiction
Freelance Writing Bootcamp: Learn How You Can Make Money From Home Freelance Writing Online
Unspoken Abandonment
YouTube Strategies: Making And Marketing Online Video
Keeping Kids Reading: How to Raise Avid Readers in the Video Age
Stay At Home, Mom: Even if You're Single!
Unsung heroes: 7 Stories Of Amazing Women Of The Bible That Rocks; Book (Valiant Women)
Cookbooks
Gleefully Gluten-Free (Healthy Desserts & Snacks)
Creative Cakes: picture and idea book for cake decorators
Slim Down Snacks Under 100 Calories That Keep You Feeling Full
Children's
Not Just a Princess (A Mia Book)
Millicent Marie Is Not My Name
Why? Because I Love You! (A Little Pup Book)
Super Secret Birthday Party (A Beautifully Illustrated Children's Picture Book; Perfect Bedtime Story)
Preteens
In the Window Room (The Histories of Earth)
The Merman and The Moon Forgotten (Nikolas and Company: Episode #1)
Young Adult
Crossroads (Crossroads Academy #1)
Agartha's Castaway (Trapped in the Hollow Earth Novelette Series)
Remember that you do not need a Kindle e-reader to be able to read this book. You can read it on your PC, iPhone, iPad
, Blackberry and Android. Just download for free the appropriate application to be able to do that. Amazon changes prices without notice, so make sure to check that the kindle price it is still $0.00 before you start downloading this book.