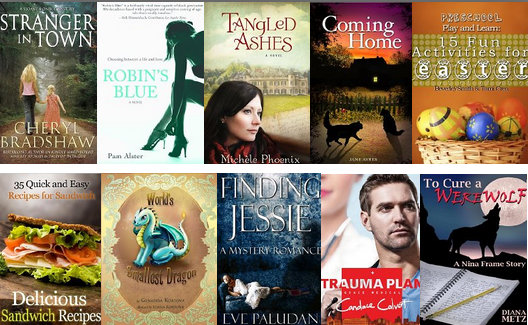 Thanks to my friend and fellow blogger over at Jessica's Coupons you'll be able to check out this huge list of free kindle books currently available. 
Please note that Amazon changes their offers without notice, so please make sure they are still free before you start downloading them:
Fiction
Mystery, Suspense & Action
Through Dark Spaces (A Hannah Morrison Mystery)
Lab Notes: a novel
Closure
Stranger in Town (A Sloane Monroe Novel, Book Four)
Bubba and the Dead Woman
Romance
Snowbound (Harlequin Super Romance)
Finding Jessie: A Mystery Romance
Remember When (Remember Trilogy #1)
Paranormal, Fantasy & Sci-Fi
To Cure a Werewolf: A Nina Frame Story
Dark Earth
Lodestone Book One: The Sea of Storms
Christian & Religious
Standing on The Edge Of Goodbye (Treasures Of The Rockies)
Beautiful Bandit (Lone Star Legends)
Trauma Plan (Grace Medical)
A Love For Keeps (Truly Yours Digital Editions)
Contemporary
Robin's Blue
Tangled Ashes
Mason's Daughter
The Memory Songbook
Classics
Emma
Non-Fiction
Preschool Play and Learn: 15 Fun Activities for Easter (Preschool Play and Learn: Activities for Every Season)
Parenting Without Tears: Living With Teenagers
Secrets of Quick Decluttering, Selling and Organizing the Home Area: Essential Step by Step Methods to Clutter-Free Lifestyle at Home & Earn Money through Selling Cluttered Items On eBay & Amazon
Simply Fleece
Incredible Cardboard!
Cookbooks
33 Amazing Recipes For Homemade Brownies – The Scrumptious Brownies Recipe Collection (The Brownie Recipe and Dessert Recipes Collection)
Delicious Sandwich Recipes – 35 Quick and Easy recipes for Sandwich
100 Year Old Recipes You Can Still Make Today: HOMEMADE CANDIES
The Fantastic Slow Cooker Cookbook (March 2013 Edition)
Children's
World's Smallest Dragon
Petal's First Winter (Petal the Owl)
KiteReaders Classics – The Tale of Peter Rabbit
Lexi Fairheart and the Forbidden Door (An Illustrated Children's Picture Book for Ages 3-6 Years Old)
Morgie and Peej Catch A Burglar (The Adventures of Two Dogs)
Preteens
Coming Home (The journey of two special cats)
Zak and the Mystery Girl
Young Adult
Off Limits (Nitty Gritty series)
The Whispers of The Sprite (The Whispers series #1)
Remember that you do not need a Kindle e-reader to be able to read this book. You can read it on your PC, iPhone, iPad
, Blackberry and Android. Just download for free the appropriate application to be able to do that. Amazon changes prices without notice, so make sure to check that the kindle price it is still $0.00 before you start downloading this book.