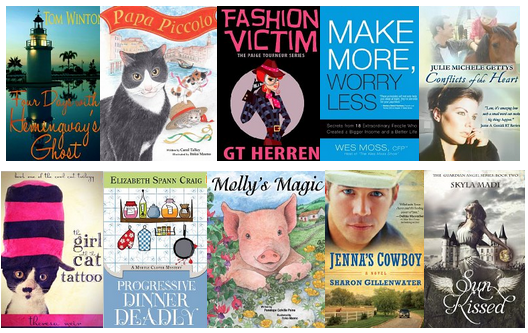 Thanks to my friend and fellow blogger over at Jessica's Coupons you'll be able to check out this huge list of free kindle books currently available. 
Please note that Amazon changes their offers without notice, so please make sure they are still free before you start downloading them:
Fiction
Mystery, Suspense & Action
The Violin Man's Legacy
Fashion Victim (#1 in the Paige Tourneur Missing Husband Series)
Dark Places (Dark Places Of The Earth)
Progressive Dinner Deadly (A Myrtle Clover Mystery)
Lying in Wait
The Girl with the Cat Tattoo
Romance
Manhunt
The English Lily (Tales of the Scrimshaw Doll)
Bayou Born (Fleur de Lis Series)
With a View
Paranormal, Fantasy & Sci-Fi
Broken Aro (The Broken Ones)
Apocalyptic Moon (After the Bane)
Fang Chronicles: Amy's Story
Divided (Elena Ronen, Private Investigator)
Christian & Religious
Jenna's Cowboy (The Callahans of Texas Book #1): A Novel
IN THE WILDERNESS
Contemporary
Conflicts of the Heart
Falling Star
Four Days with Hemingway's Ghost
Classics
The Legends of King Arthur and His Knights
Non-Fiction
Make More, Worry Less: Secrets from 18 Extraordinary People Who Created a Bigger Income and a Better Life
SMART FAMILY BUDGETING GUIDE: The 5 Key Things You Must Do To Keep Your Family Free From Financial Worry – Plus 7 Tips To Raise Financially Savvy Kids! (The Growing Wealthy Success Series)
The Big Book of Craft Interviews: Volume 2
Character Building for Kids: Cartoon Guide to Good Manners with Family Discussions
Cookbooks
Saving Money in the Kitchen: Frugal Cooking Tips and Recipes (The Frugal Living Series)
30 Delicious Icebox Cookie Recipes
Children's
PAPA PICCOLO Famlies, Fatherhood,Caring and Nurturing Children's Picture Book (Fully Illustrated Version)
MOLLY'S MAGIC Problem Solving Children's Picture Book (Fully Illustrated Version)
Maggy's Waggy Tail
Preteens
Merlin's Heir (Merlin's Sleeping Series)
Young Adult
The Fallen Star (Fallen Star Series Book 1)
Mutiny (M.E.R. Series #1)
Sun Kissed (The Guardian Angel Series Book 2)
Remember that you do not need a Kindle e-reader to be able to read this book. You can read it on your PC, iPhone, iPad
, Blackberry and Android. Just download for free the appropriate application to be able to do that. Amazon changes prices without notice, so make sure to check that the kindle price it is still $0.00 before you start downloading this book.