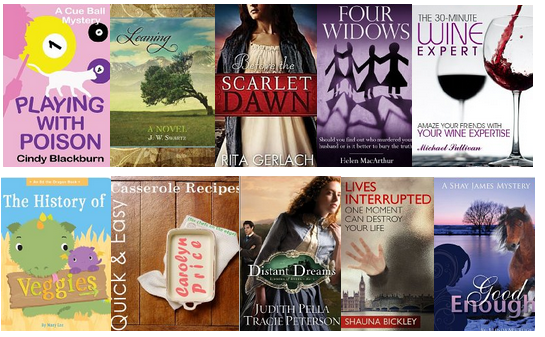 Thanks to my friend and fellow blogger over at Jessica's Coupons you'll be able to check out this huge list of free kindle books currently available. 
Please note that Amazon changes their offers without notice, so please make sure they are still free before you start downloading them:
Fiction
Mystery, Suspense & Action
License to Thrill (a romantic mystery)
Playing with Poison: A Humorous and Romantic Cozy (Book 1 The Cue Ball Mysteries Series)
While You Were Dead (Black Fire)
Liquid Lies (Mystery, Thriller, Suspense)
Romance
Leaning (Montana series)
Turnagain Love (Sisters of Spirit #1)
The Mistress of Trevelyan (Trevelyan Series)
The Moscow Affair: Sexy Sizzling Suspense (Book 1 The International Romantic Intrigue Series)
The Frog Prince (A Romantic Comedy)
Paranormal, Fantasy & Sci-Fi
HIDDEN (Marchwood Vampire Series Book 1)
Before the Moon Rises (Ritter Werewolves)
Christian & Religious
A Texan's Promise: The Heart of a Hero, Book 1
Before the Scarlet Dawn: Daughters of the Potomac, Book 1
The Way of Grace (Miller's Creek Novels)
Distant Dreams (Ribbons of Steel Book #1)
Contemporary
What It Feels like to be a Ghost
Four Widows
More Than Rivals
Lives Interrupted
Classics
An Ideal Husband
Non-Fiction
The 30 Minute Wine Expert: Amaze Your Friends with Your Wine Expertise
SMART BUDGETING FOR SMART SENIORS: Discover The 5 Essential Financial Facts Every Senior Needs To Know To Make Your Golden Years Truly Golden
Magic of Public Speaking: A Complete System to Become a World Class Speaker
Mind Hurdles: Math Transformers Interactive Fun (An Introduction to Slides, Flips and Turns for Grades 2-5)
Cookbooks
Taste of Home Fast Fixes with Mixes New Edition: 314 Delicious No-Fuss Recipes
Quick & Easy Casserole Recipes (for chefs on the edge)
Children's
Time for Bed, Doggus
THE SECRET TO HAPPINESS (HUGO THE HAPPY STARFISH – IMAGINE HAPPINESS CAN BE LEARNED®)
The History of Veggies (An Ed the Dragon Book)
Crazy Caterpillar
Dinosaur Books For Kids: The Peaceful Plant-Eaters
Lillybell
Preteens
Spychild (2nd Edition) (The Shadow's Apprentice)
Johnny B. Fast: The Super Spy 1
Young Adult
Body and Blood
Whispers in the Woods Vol. I (An Elfkin Novel)
Good Enough (A Shay James Mystery)
Remember that you do not need a Kindle e-reader to be able to read this book. You can read it on your PC, iPhone, iPad
, Blackberry and Android. Just download for free the appropriate application to be able to do that. Amazon changes prices without notice, so make sure to check that the kindle price it is still $0.00 before you start downloading this book.