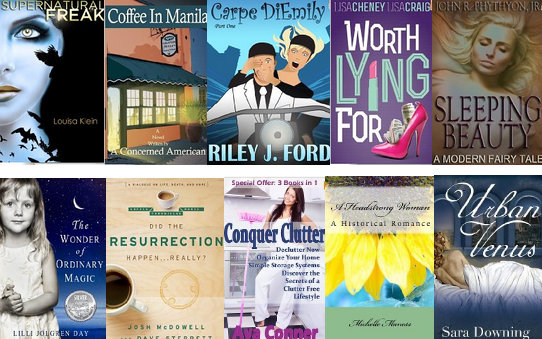 Thanks to my friend and fellow blogger over at Jessica's Coupons you'll be able to check out this huge list of free kindle books currently available. 
Please note that Amazon changes their offers without notice, so please make sure they are still free before you start downloading them:
Fiction
Mystery, Suspense & Action
Cold Fear
Masters' Mysterium: Wisconsin Dells
Never Say Spy
Romance
A Headstrong Woman
The Many and The One (The Reynolds Family Saga-Book 1)
Black Sam: Prince of Pirates
Urban Venus (A story of love and art in Italy)
Carpe DiEmily (Part 1): A Free Romantic Comedy Chick Lit Adventure
Paranormal, Fantasy & Sci-Fi
Supernatural Freak
Breathless/Deathless 2 Book Set (Blue Fire Saga)
Christian, Religious & Historical
Prodigal Nights
Grace for the Char-Baked
Coffee In Manila
Contemporary
Songs Unsung (Becoming Quinn Coffield)
Anything You Can Do
Worth Lying For
The Wonder of Ordinary Magic
Olivia
Classics
The Obsession of Victoria Gracen
Non-Fiction
Did the Resurrection Happen . . . Really?: A Dialogue on Life, Death, and Hope (The Coffee House Chronicles)
Conquer Clutter: 3 Books in 1 – Declutter Now, Organize Your Home, Simple Storage Systems – Discover the Secrets of a Clutter Free Lifestyle
Handbags and Tote Bags to Crochet – A Collection of Classic Crochet Purse and Tote Bag patterns from the past
Cookbooks
Cooking Recipes
Children's
E is for Easter: A Fun Children's Alphabet Book with Games
Norbert's Nose
It's Time to Sleep (Children's Picture Ebook for Ages 3-8)
Friends for Life
Ug The Little Stone Age Boy
Preteen
The Adventures of Ron Smith
Young Adult
Magic High
Vanish (Book One)
Black Waters (The Songstress Trilogy)
Sleeping Beauty: A Modern Fairy Tale
Remember that you do not need a Kindle e-reader to be able to read this book. You can read it on your PC, iPhone, iPad
, Blackberry and Android. Just download for free the appropriate application to be able to do that. Amazon changes prices without notice, so make sure to check that the kindle price it is still $0.00 before you start downloading this book.