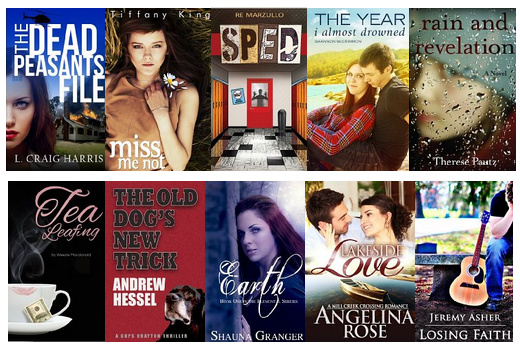 Thanks to my friend and fellow blogger over at Jessica's Coupons you'll be able to check out this huge list of free kindle books currently available. 
Please note that Amazon changes their offers without notice, so please make sure they are still free before you start downloading them:
Fiction
Mystery, Suspense & Action
The Old Dog's New Trick (The Cups Drayton Series)
Sons of Dust
Tea Leafing: A Novel
The Dead Peasants File
Romance
Lakeside Love (A Mill Creek Crossing Romance)
Playing at Forever
Losing Faith
The Russian Seduction
Slate: The Salacious Story of a Hollywood Casting Director
Of Noble Birth
Paranormal, Fantasy & Science Fiction
Earth (Elemental Series)
Lost (Amelia Jones Private Detective Series)
Borderline
Christian, Religious & Historical
The Last Plea Bargain
The Eyes of a Stranger (Nan's Heritage Series)
Contemporary
The Ivy House (A Queensbay Novel)
Rain and Revelation
Searching for Glory
Pandora's Box
Miss Me Not
Classics
Little Women
Non-Fiction
herb gardening-the best herb to grow in your gardening
101 Tips and Tricks for Home Organization and Clutter Reduction
How To Plan A Baby Shower: Plan the perfect baby shower – checklist, games, ideas
 Cookbooks
The Art of Perfect Bread Baking (Delicious Recipes)
The Lemon Cookbook
 Children's
Dreamland
Princess Charleston of the Isle of Palms
Preteens
SPED
You Can't Scare Me (Life With Stef)
Young Adult
The Year I Almost Drowned
My Popular Life (The Popular Life)
Remember that you do not need a Kindle e-reader to be able to read this book. You can read it on your PC, iPhone, iPad
, Blackberry and Android. Just download for free the appropriate application to be able to do that. Amazon changes prices without notice, so make sure to check that the kindle price it is still $0.00 before you start downloading this book.