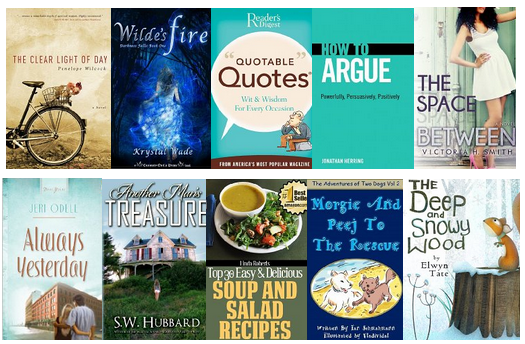 Thanks to my friend and fellow blogger over at Jessica's Coupons you'll be able to check out this huge list of free kindle books currently available. 
Please note that Amazon changes their offers without notice, so please make sure they are still free before you start downloading them:
Fiction
Mystery, Suspense & Action
Dire Means
Dance With the Devil (A Psychological Thriller)
Romance
What Wild Moonlight
The Space Between
Heartstealer (Women of Character)
The Other Side of Us (Try Harlequin)
Paranormal, Fantasy & Sci-Fi
The Twelfth House (The Elementals)
Wilde's Fire (Darkness Falls)
Blood Singers (Blood Series, #1)
Interesting Times
Christian & Religious
Always Yesterday (HEARTSONG PRESENTS – CONTEMPORARY)
The Secret Of The Seasons: Spring (Book One)
But For Grace (HEARTSONG PRESENTS – HISTORICAL)
The Clear Light of Day: A Novel
Contemporary
The Rose of Fire
True Colours
Classics
Tess of the d'Urbervilles
Non-Fiction
How to Argue: Powerfully, Persuasively, Positively
Finally Fearless: Journey from Panic to Peace
Quotable Quotes
FranklinCovey Style Guide: For Business and Technical Communication (5th Edition)
Cookbooks
Even More Make and Freeze Recipes (Eat Better For Less Guides)
Asian Recipes – Dessert Delights (With Images Of Each Dessert And Chef's Tip)
35 Easy Pasta Recipes – Delicious and Traditional Italian Pasta Dishes
Top 30 Easy & Delicious Soup and Salad Recipes
Children's
Happy Animals. A Children's Animal Picture Book
Morgie and Peej To The Rescue (The Adventures of Two Dogs)
Preteens
Quest of the Faes
The Case of the Mystery Mark (The Nicki Holland Mystery Series)
Young Adult
Jerk Magnet, The (Life at Kingston High Book #1)
For Foolish Pride
 Remember that you do not need a Kindle e-reader to be able to read this book. You can read it on your PC, iPhone, iPad
, Blackberry and Android. Just download for free the appropriate application to be able to do that. Amazon changes prices without notice, so make sure to check that the kindle price it is still $0.00 before you start downloading this book.