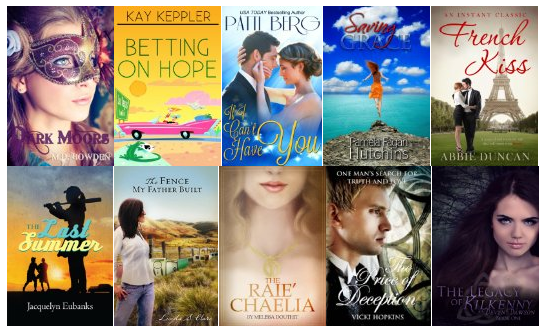 Thanks to my friend and fellow blogger over at Jessica's Coupons you'll be able to check out this huge list of free kindle books currently available. 
Please note that Amazon changes their offers without notice, so please make sure they are still free before you start downloading them:
Fiction
Mystery, Suspense & Action
Saving Grace (Katie and Annalise Series)
Rain Is A Love Song (The Red Hand Conspiracy)
Due Justice (Justice Series #1)
Thicker Than Water (Brands Crossing Series)
Romance
Dreaming Of You
Betting on Hope
If I Can't Have You
French Kiss (Novella)
Paranormal, Fantasy & Science Fiction
The Legacy of Kilkenny (The Legacy of Kilkenny Series)
Glacial Eyes (Salt Lake After Dark)
Eyes Like Sky And Coal And Moonlight
The Raie'Chaelia
Dark Moors (THE TWO VAMPIRES, #4)
Christian, Religious & Historical
Lanterns and Lace (Texas Legacy)
Runner Up
The Last Summer (The Last Summer Series)
Dead Running
Raw Deal (Beauty for Ashes: Book One) A Christian Novel
The Fence My Father Built
The Rain Falls On Both
Contemporary
The Price of Deception (Book Two The Legacy Series)
Under the Olive Tree: A Novella
TORTILLA PRESS
Classics
The Wind in the Willows
Children's
Wacky Wishes
First Steps Devotions for Families with Young Children
Alphabet Book of Animals from Africa – Easy Ways to Learn the Alphabet
Horse Magic In Flutter's World
Critter Tails – You are valuable
If I Were a Worm . . .
Preteens
My Glasses
School Is A Nightmare #4 Yuck Mouth And The Thanksgiving Miracle
The Green Beans, Volume 1: The Mystery of Hollow Oak
The Green Beans, Volume 2: The Strange Genius of Lefty O'Houlihan
Young Adult
Love Between the Lines
Chasers (Alone # 1)
Non-Fiction
23 Mini-Makeovers – Simple DIY Projects for Your Home
Beginners Guide To Organic Gardening And Composting
Deal with Your Debt: Free Yourself from What You Owe, Updated and Revised
EATING OUT? Smart Diner Dining
A Minimalist Travel Guide: Declutter, Simplify, Travel Light
Cookbooks
Healthy Breakfast Recipes – Sinfully Delicious
The Lemon Book – Natural Recipes and Preparations
Quick and Easy Lunch Recipes For One
Paleo Diet Soups and Stews. 50 Delicious Gluten Free Natural Food Recipes
______________________________________________________________________________________________________
Remember that you do not need a Kindle e-reader to be able to read this book. You can read it on your PC, iPhone, iPad
, Blackberry and Android. Just download for free the appropriate application to be able to do that. Amazon changes prices without notice, so make sure to check that the kindle price it is still $0.00 before you start downloading this book.