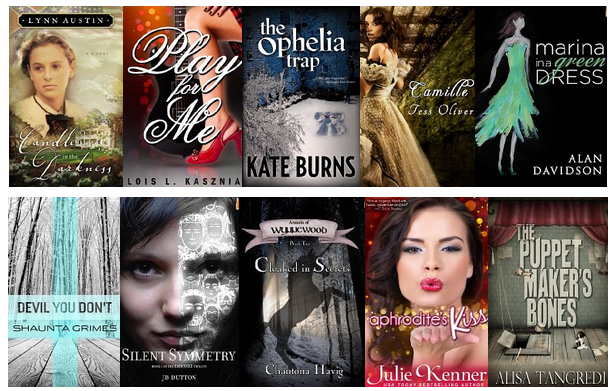 Thanks to my friend and fellow blogger over at Jessica's Coupons you'll be able to check out this huge list of free kindle books currently available. 
Please note that Amazon changes their offers without notice, so please make sure they are still free before you start downloading them:
Fiction
Mystery, Suspense & Action
MARINA IN A GREEN DRESS
Swan Song (Julie O'Hara Mystery Series)
Cedardale Court (The First Road)
The Ophelia Trap (The Julia Henry Mysteries)
Romance
Good Neighbors (Harlequin More Than Words)
Devil You Don't (Rosemont Brothers)
Wallflower (The Old Maids' Club, Book 1)
Billionaire Bad Boy
Paranormal, Fantasy & Science Fiction
Aphrodite's Kiss (Protectors (Superhero Series))
The Puppet Maker's Bones (Death's Order)
Heartless (Tales of Goldstone Wood Book #1)
Christian, Religious & Historical
Capture the Wandering Heart (Rescued…A Series of Hope)
Tea With Emma (The Teacup Novellas – Book One)
Candle in the Darkness (Refiner's Fire Book #1) (Refiner's Fire)
Contemporary
If You Come To California
Reinventing Mike Lake
Play for Me
The Black & The White
Mending Stone
With a Stroke of the Pen
A Death On The Wolf
Classics
The Strange Case of Dr. Jekyll and Mr. Hyde
Non-fiction
Killer Work from Home Jobs: SBI! Site Build It! Website and Business Builder – Make Money Online (Job Search Series)
Church Zero: Raising 1st Century Churches out of the Ashes of the 21st Century Church
Living Rich by Spending Smart: How to Get More of What You Really Want
How To Make Homemade Baby Food: Recipes For Naturally Healthy Babies
Cookbooks
Delicious Cookies and Bars (Delicious Mini Book)
25 Vegetarian Appetizers and Healthy Side Dishes (Vegetarian Cookbook and Vegetarian Recipes Collection)
Tex-Mex Recipes – 100 Recipes to Spice Up Your Appetite

Children's
Rainy Day Poems
Where Does Your Cat Go? – A children's picture book about friendship (Great Learn to Read Cat Book for Kids)
Diary of a Penguin-napper
I Know a Cat and He Is Up to Something
There's a Spider in My Shoe! (Silly Rhyming Illustrated Children's Picture eBook)
Preteens
Hiding Carly (Sean Gray Junior Special Agent Series)
My Lemonade Stand Can't Stand Me
Storybound
Young Adult
Cloaked in Secrets (Annals of Wynnewood)
Camille (Camille Series, Book I)
Silent Symmetry (The Embodied trilogy)
Finding You
Remember that you do not need a Kindle e-reader to be able to read this book. You can read it on your PC, iPhone, iPad
, Blackberry and Android. Just download for free the appropriate application to be able to do that. Amazon changes prices without notice, so make sure to check that the kindle price it is still $0.00 before you start downloading this book.