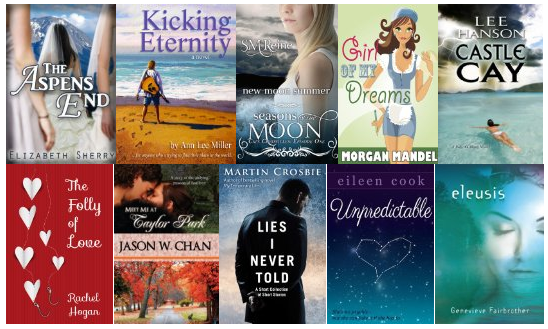 Thanks to my friend and fellow blogger over at Jessica's Coupons you'll be able to check out this huge list of free kindle books currently available. 
Please note that Amazon changes their offers without notice, so please make sure they are still free before you start downloading them:
Fiction
Mystery, Suspense & Action
PRECIPICE
Redwood Violet
Romance
Girl of My Dreams
Unpredictable
Coffee and Cockpits
Forbidden Angel
Unruly Hearts
Running Towards Love
Paranormal, Fantasy & Science Fiction
Faculty of Fire
Eleusis
The Traveler's Companion
Cry Baby Hollow
Christian, Religious & Historical
DAUGHTER OF FIRE: Daughters of Alba, Book 2
Kicking Eternity
Restorations (Oregon In Love)
Contemporary
Lies I Never Told – A Short Collection of Short Stories
Meet Me at Taylor Park
Classics
The War of the Worlds
Children's
Party At My Crib, 2 A.M.
When I Dream, I Dream of Elephants!
Lula's Brew
Ode to Icky
Thank You God For Making Me Special
Dart and the Squirrels
Shivery
Preteens
Cora Flash and the Treasure of Beggar's Bluff
A HORSE CALLED SEPTEMBER
School Is A Nightmare – Quadzilla (Books 1-4) Special Edition
Reckless Rudy and the Green Vase
Young Adult
Lovesessed
Non-Fiction
All About Jesus: The Single Story from Matthew, Mark, Luke, & John
Planet Pouch: Simple Juice Pouch Bags Anyone Can Make
Secrets of Quick Decluttering, Selling and Organizing the Home Area
Get Organized! Your 12 Month Home Clutter Killer Guide : 2nd Edition (Revised)
Cookbooks
30 Quick and Easy Recipes For Breakfast

Canology – A Modern Guide
Learn To Cook: A Down and Dirty Guide to Cooking
______________________________________________________________________________________________________
Remember that you do not need a Kindle e-reader to be able to read this book. You can read it on your PC, iPhone, iPad
, Blackberry and Android. Just download for free the appropriate application to be able to do that. Amazon changes prices without notice, so make sure to check that the kindle price it is still $0.00 before you start downloading this book.