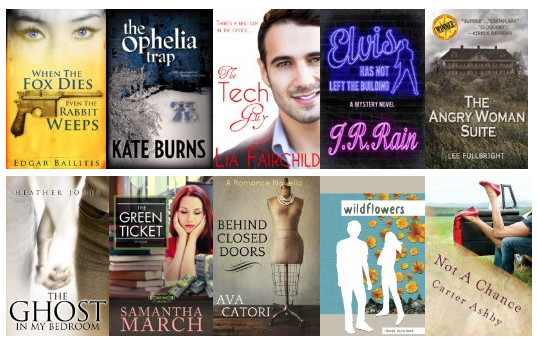 Thanks to my friend and fellow blogger over at Jessica's Coupons you'll be able to check out this huge list of free kindle books currently available. 
Please note that Amazon changes their offers without notice, so please make sure they are still free before you start downloading them:
Fiction
Mystery, Suspense & Action
When The Fox Dies Even The Rabbit Weeps
If Angels Fall
Finding Catalina
A Case of Imagination: A Madeleine Maclin Mystery
The Ophelia Trap (The Julia Henry Mysteries)
Elvis Has Not Left the Building
Romance
Two Days of a Dream
Creighton Manor
Ride the Rainbow Home
Paranormal, Fantasy & Science Fiction
The Millennial Sword
The Vampire Affair (Part One)
The Ghost In My Bedroom (Book 1)
Bad Vibrations (The Sedona Trilogy)
Christian, Religious & Historical
Lessons from Jericho
Horses, Adrenaline, and Love
The Angry Woman Suite
Contemporary
The Green Ticket
The Tech Guy
Behind Closed Doors: A Romance Novella
Classics
Lady Susan
Children's
Boo and The Backyard Zoo
Dream With Me
Flick and the Summer Night's Lightshow
Kevin and the Seven Lions
When I Dream, I Dream of Horses
Preteens
The Merman and The Moon Forgotten (Nikolas and Company: Episode #1)
Dinosaur Trivia – An Interactive Book for Kids
J.K. Drew Boxed Set: All Six Novels
Young Adult
wildflowers
Branded (The Branded Series)
Wish Upon a Star
Certainty
Dream In Color
Non-Fiction
The Busy Woman's Guide to Getting Fit, Fierce, and Fabulous
The Ultimate US TV Quiz Book: The '80s
How to Deliver the Perfect TED Talk: Presentation Secrets of the World's Best Speakers
How to Improve Your Memory & Increase Your Brain Power in 30 Days
Quotes in Polkadots – The Words I Kept in Mind to Change My Life
Cookbooks
Allergy Safe Cuisine; Cooking Without the Top 8 Food Allergens, Plus Corn, Gluten and MSG
Barbecurious: A Beginner's Guide to American Barbecue
Incredible Muffin Tin Recipes: Easy and Delicious Muffin Tin Meals
______________________________________________________________________________________________________
Remember that you do not need a Kindle e-reader to be able to read this book. You can read it on your PC, iPhone, iPad
, Blackberry and Android. Just download for free the appropriate application to be able to do that. Amazon changes prices without notice, so make sure to check that the kindle price it is still $0.00 before you start downloading this book.