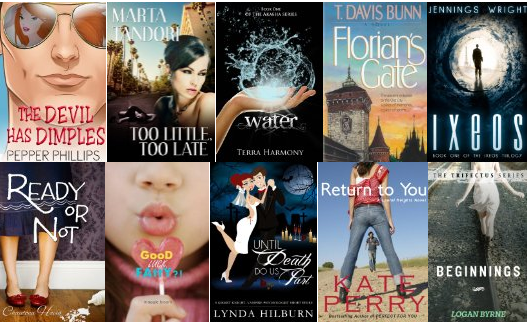 Thanks to my friend and fellow blogger over at Jessica's Coupons you'll be able to check out this huge list of free kindle books currently available. 
Please note that Amazon changes their offers without notice, so please make sure they are still free before you start downloading them:
Fiction
Mystery, Suspense & Action
Romance
The Job Offer
Paranormal, Fantasy & Science Fiction
Water (The Akasha Series)
Blood Faerie (Caledonia Fae, Book 1)
Wilde's Fire (Darkness Falls)
The Eternal Queen
Christian, Religious & Historical
Loving Miss Libby
Contemporary
Summer Melody
The Devil Has Dimples
A Dignified Exit
Until Death Do Us Part: A Kismet Knight Mini-Story
Classics
Paradise Lost
Children
There's a Monster in the Dark
Weezie, the Elephant with Allergies
Cloud Road
Preteens
The Cootie Kisser Convention on Canterbury Court
Princess Evangeline and the Fiery Fiasco
Rascals Sing at The Opera House
Young Adult
Good Luck, Fatty?!
Non-Fiction
Keeping Kids Reading: How to Raise Avid Readers in the Video Age
Meet Mrs. Smith: My Adventures with Six Kids, One Rockstar Husband, and a Heart to Fight Poverty
Alone: Finding Connection in a Lonely World
Indoor Gardening: How To Grow Gorgeous Gardens Indoors With Ease
49 Ways To Make Mother's Day Special
Locally Grown: Portraits of Artisanal Farms from America's Heartland
The Truth About Getting the Best from People (2nd Edition)
Cookbooks
Quesadillas: 40 Simple, Quick and Easy Authentic Mexican Quesadilla Recipes
37 Yummy Boneless Chicken Breast Recipes
______________________________________________________________________________________________________
Remember that you do not need a Kindle e-reader to be able to read this book. You can read it on your PC, iPhone, iPad
, Blackberry and Android. Just download for free the appropriate application to be able to do that. Amazon changes prices without notice, so make sure to check that the kindle price it is still $0.00 before you start downloading this book.