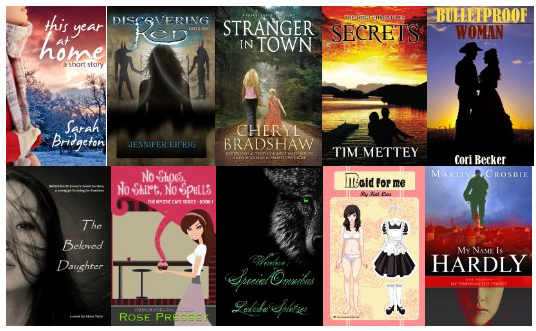 Thanks to my friend and fellow blogger Jessica over at Living Chic on the Cheap you'll be able to check out this huge list of free kindle books currently available.
Please note that Amazon changes their offers without notice, so please make sure they are still free before you start downloading them:
Fiction
Mystery, Suspense & Action
This Doesn't Happen In The Movies
Music Box Dancers
Romance
Bulletproof Woman
Come Be My Love
Paranormal, Fantasy & Science Fiction
Tribesman
Discovering Ren (Book 1)
Christian, Religious & Historical
Of Love and Laughter
The Beloved Daughter
Contemporary
Chicken Suze
Classics
The Red Badge of Courage
Children's
Wiggle Wiggle Boooooom!
Goodnight Farm Animals
Tiddlywink the Mouse
Cougar Cub Tales:The Sneezy Wheezy Day
Captain Jack And Treasure Island
Preteens
The Case of the Bedridden Bunny
Young Adult
Maid for Me
ORBS: A Haunting at the Claxton Mansion
This Year at Home (A Short Story)
Secrets: The Hero Chronicles (Volume 1)
Werelove Omnibus Edition
Non-Fiction
Sewing Tutorials: Sewing Books with Sewing Patterns For Beginners Series
The Big Book of Craft Interviews
Paracord Bracelets & Projects: A Beginners Guide
Cookbooks
Breakfast Mug Menus: Quick & Easy Meals for Everyone
20 Super Easy Smoothie Recipes for Kids!
__________________________________________________________________________________________________
Remember that you do not need a Kindle e-reader to be able to read this book. You can read it on your PC, iPhone, iPad
, Blackberry and Android. Just download for free the appropriate application to be able to do that. Amazon changes prices without notice, so make sure to check that the kindle price it is still $0.00 before you start downloading this book.