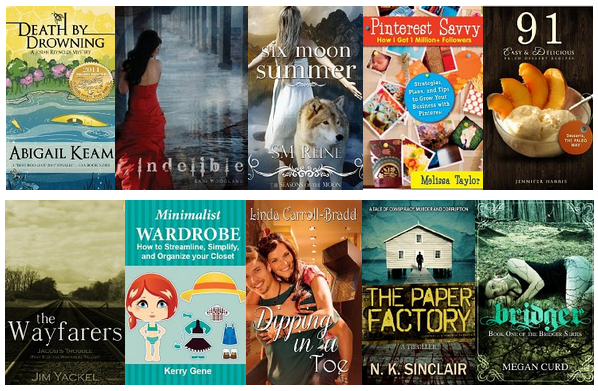 Thanks to my friend and fellow blogger over at Jessica's Coupons you'll be able to check out this huge list of free kindle books currently available. 
Please note that Amazon changes their offers without notice, so please make sure they are still free before you start downloading them:
Fiction
Mystery, Suspense & Action
The Paper Factory (Michael Berg)
Death By Drowning 2 (Mystery & Women Sleuths) (Josiah Reynolds Mysteries)
The Final Arrangement (Book One in the Cozy Flower Shop Mystery Series)
The Book of One (ZANE'S BRAIN)
A Man Overboard
Rain Dance: Three Novels
Romance
Dipping In A Toe
Sammi Ever After
Sweet Piracy
Miss Phipps and the Cattle Baron
Paranormal, Fantasy & Science Fiction
Francey
The Chance
In The Dark
Revenge of the Mad Scientist (Book One: Airship Adventure Chronicles)
Six Moon Summer (#1) (Seasons of the Moon)
Christian, Religion & Historical
Surrender the Wind
The Wayfarers | Jacob's Trouble
Ascent
Noble Cause: A Civil War Novel of Love and War
Contemporary
The Instant When Everything is Perfect
Classics
Frankenstein
Graphic
Superman (1987-2006) #1
Non-Fiction
iBloom in Business: Equipping You to Build a Successful Business while Living a Life You Love!
Minimalist Wardrobe: How to Streamline, Simplify, and Organize your Closet
10 Steps to Declutter Your Wardrobe: Organize Your Closet in a Snap!
Energy Vampires: How to Deal With Negative People
Pinterest – Build Your Brand, Your Tribe, Your Sales (2nd Ed)
How to get 1000 Real Twitter Followers in 25 Days or Less. A Step by Step Formula.
Waiting with God – The 31-Day Cure for Unanswered Prayers
Declaring Gods Word
Pinterest Savvy: How I Got 1 Million+ Followers (Strategies, Plans, and Tips to Grow Your Business with Pinterest)
Cookbooks
The Mexican Food Cookbooks – Chicken: 31 Delicious Mexican Recipes Made With Chicken
Paleo Dessert Recipes: 91 Easy and Delicious Paleo Dessert Recipes
Children's
Kids Love Horses! : Fun Facts & Picture Book (Incredible Animal Photo Books for Children)
Puddly The Penguin
Animals In The Barnyard – An Interactive Book About Farm Animals (Amazing Animals Series)
Preteens
Uncle Catfish
Ancient Fire: Danger Boy Episode 1
Young Adult
Notes to Self
Forever My Lady: A Novel | Contemporary Romance | New Adult | Award-Winning Book
Indelible (Yara Silva Trilogy)
Bridger
Traitor (Bridger)
A Taste of Reality
Remember that you do not need a Kindle e-reader to be able to read this book. You can read it on your PC, iPhone, iPad
, Blackberry and Android. Just download for free the appropriate application to be able to do that. Amazon changes prices without notice, so make sure to check that the kindle price it is still $0.00 before you start downloading this book.