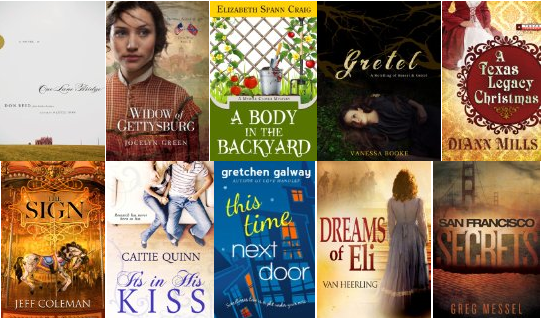 Thanks to my friend and fellow blogger Jessica over at Living Chic on the Cheap you'll be able to check out this huge list of free kindle books currently available.
Please note that Amazon changes their offers without notice, so please make sure they are still free before you start downloading them:
Fiction
Mystery, Suspense & Action
Jane Doe's Return
Romance
Subpoena Colada
Just For You
It's In His Kiss
Paranormal, Fantasy & Science Fiction
Christian, Religious & Historical
Dreams of Eli
Certain Jeopardy
One Lane Bridge: A Novel
A Texas Legacy Christmas
Contemporary
This Time Next Door
A Little Wishful Thinking…
Delphine Dodd
Classics
The Custom of the Country
Children's
Can You Find Me Hidden Pictures
Six Birds Book
Magic Hoof School
THE ISLAND OF EMPATHY – The Power Of The Word
THE ISLAND OF OPTIMISM – Happiness Is A Choice
Preteens
Young Adult
Priscilla the Great
Non-Fiction
Container Gardening: How To Grow Food, Flowers and Fun At Home
99 Ways to Get Your Kids to do Their Homework (and Not Hate It)
Photographing Children – Tips, Tricks And Ideas!
THE SMART BABY SIGN LANGUAGE BOOK
SMART Goals – The Secret of Achieving Anything You Want in Life
Pocket squares for men – the complete guide!
Baby Sleeping Trust Techniques – Alternatives to Controlled Crying
Cookbooks
Simple Cakes Recipes for kids
Best Ever Fruit Cobbler & Crisp Recipes
__________________________________________________________________________________________________
Remember that you do not need a Kindle e-reader to be able to read this book. You can read it on your PC, iPhone, iPad
, Blackberry and Android. Just download for free the appropriate application to be able to do that. Amazon changes prices without notice, so make sure to check that the kindle price it is still $0.00 before you start downloading this book.