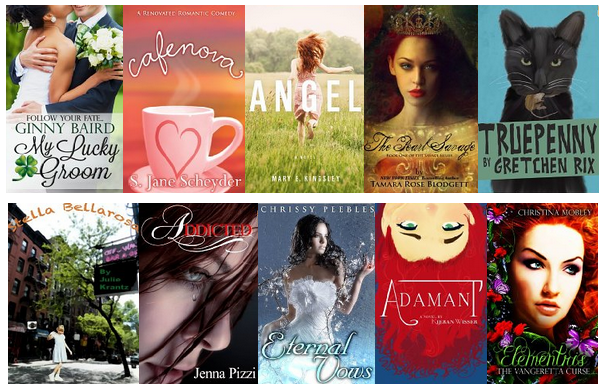 Thanks to my friend and fellow blogger over at Jessica's Coupons you'll be able to check out this huge list of free kindle books currently available. 
Please note that Amazon changes their offers without notice, so please make sure they are still free before you start downloading them:
Fiction
Mystery, Suspense & Action
First and Only
Addicted
City of Darkness (City of Mystery)
Night Flight
Romance
Stealing Mercy
My Lucky Groom (Summer Grooms Series)
Rough Harbor (A Queensbay Novel)
The Clever Detective: Story 1 (A Fairy Tale Romance)
Paranormal, Fantasy & Science Fiction
The Pearl Savage (The Savage Series, Book 1)
Eternal Vows (First book in The Ruby Ring Saga)
The Immortal Guardians, Souls
Elementris (Free Sample Copy) (The Vangeretta Curse)
Adamant
Untouched (Kristel)
Christian, Religious & Historical
Cafenova (Clairmont Series)
Homespun Bride (Love Inspired Historical)
A Very Special Delivery (Love Inspired)
Appointment at Christmas Bay
Contemporary
ANGEL
Truepenny
Firefly Beach
Classics
Treasure Island
Non-Fiction
How to Save Money at Home: A Room-by-Room Guide to Cut Spending
Moving Without Mayhem: The Ultimate Guide To Selling, Packing and Moving To a New House Stress Free (Moving House)
Gardening Tips & Techniques:101 great tips to make your plants and vegetables grow faster and bigger
Cookbooks
35 Family Favorite Casserole Recipes – The Quick and Easy Casseroles Collection
35 Chili Recipes – World's Best Chili Cookbook (Hillbilly Housewife Cookbooks)

Children's
I Am Not Afraid of Monsters! (Perfect for Bedtime and Young Readers Children's Books Collection)
Candy Andy and the rainbow dinner (Happy Motivated children's books Collection)
Spring is Here! A Children's Picture Book About Spring
It Came From Planet Earth! Strange, Weird and Unusual Animals
Preteens
Guys Against the Girls (Hat City Middle School Series)
Jared's Island
School Is A Nightmare #1 First Week, Worst Week
Young Adult
Not So Snow White
Crossroads (Crossroads Academy #1)
Stella Bellarosa: Tales of an Aspiring Teenage Superhero
______________________________________________________________________________________________________
Remember that you do not need a Kindle e-reader to be able to read this book. You can read it on your PC, iPhone, iPad
, Blackberry and Android. Just download for free the appropriate application to be able to do that. Amazon changes prices without notice, so make sure to check that the kindle price it is still $0.00 before you start downloading this book.