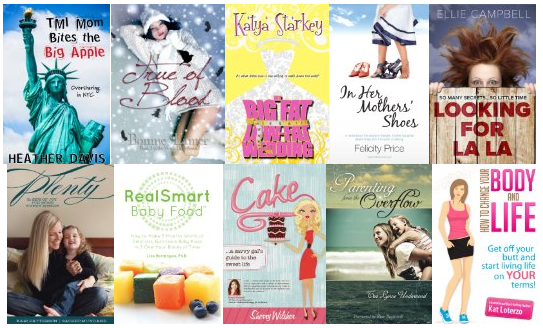 Thanks to my friend and fellow blogger Jessica over at Living Chic on the Cheap you'll be able to check out this huge list of free kindle books currently available.
Please note that Amazon changes their offers without notice, so please make sure they are still free before you start downloading them:
Fiction
Mystery, Suspense & Action
Out on a Limb: A Smoky Mountain Mystery
Tucker's Way
The Vanished Lady
Romance
Sons and Daughters: Darcy and Fitzwilliam
This Heart of Mine
Paranormal, Fantasy & Science Fiction
The Wizard, the Farmer, and the Very Petty Princess
Apprentice Cat
Christian, Religious & Historical
Birthright
Contemporary
TMI Mom Bites the Big Apple: Essays
My Big Fat Low-Fat Wedding
In Her Mothers' Shoes
Looking for La La
Classics
The Innocents Abroad
Children's
Boe The Great
Beautiful, Magical, Amazing BALLET
Preteens
Jake Johnson And The Journey To Olympus
Young Adult
Affinity
To be Maria
Non-Fiction
Parenting from the Overflow
Plenty: 31 Sips of Joy for Moms Everywhere
Cake: A Savvy Gal's Guide to the Sweet Life
Don't Put Headphones on the Cat and Other Life Lessons
DEAR MOM: A Children's Story for Moms in Dr. Seuss Style Rhyme
Change Your Body, Change Your Life
Cookbooks
Homemade Comfort Food For Your Dogs!
RealSmart Baby Food
Low-Fat Cake, Cheesecake, and Cookie Recipes
______________________________________________________________________________________________________

Remember that you do not need a Kindle e-reader to be able to read this book. You can read it on your PC, iPhone, iPad
, Blackberry and Android. Just download for free the appropriate application to be able to do that. Amazon changes prices without notice, so make sure to check that the kindle price it is still $0.00 before you start downloading this book.